African Black Soap for Acne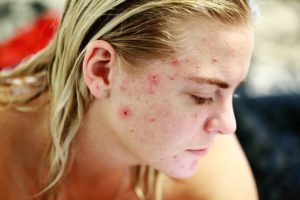 Hello and Welcome to JADa Therapy
Today I am going to show you how amazing African black soap is for acne, and how you can heal your skin with this natural alternative.
Heal Your Skin Naturally With African Black Soap
Now if you suffer with acne, you know that trying to find the right product that will actually work is a frustrating task.
Many products contain so many chemicals that you cannot pronounce let alone know what it is.  Many of these products leave your skin feeling like you have just added starch to your face, because it is so stiff after using it.
Also as soon as you stop using it you are back to square one.  It can seem like a never ending cycle.
Now you can break this cycle once and for all externally.
I say externally because with acne it is much deeper rooted and in many cases some form of lifestyle change would need to take place to completely cure your acne.
In saying that this all natural African black soap will surely be one tool that you should seriously consider keeping as a staple.
One of the things that I love about African Black Soap is that along with healing the acne condition it is really gentle and can also be used on sensitive skin for a whole host of different skin conditions and or to just simply keep healthy skin healthy.
---
Some Benefits of African Black Soap
Cleansing
UV-protection properties
Fades skin discolouration
Fades dark spots
Heals skin conditions, dryness, rashes, eczema
Anti-bacterial
Helps treat acne
Great as a hair shampoo
Best of African Black Soap Buying Guide
---
What is African Black Soap?
African black soap contains shea butter and other plant ingredients, making it an all-natural product.   Depending on the brand, the ingredients change slightly.
How Can African Black Soap Help With Acne?
African black soap has natural anti-bacterial and anti-fungal properties that will deeply and gently cleanse your skin.
It will completely remove makeup but you should take care around your eyes.
The ash that is contained in the soap will gently exfoliate the skin, unclogging pores and removing excess oils, sebum and debris.  It will do all this without over drying the skin.
It will also improve the texture of your skin and even out the tone.  Help to remove acne scars and dark spots caused by acne.  It will remove dead skin cells.
---
How Long Do You Have To Use African Black Soap Before You See Results?
You will start seeing results in a few weeks from the time that you start using African black soap.  Be patient.
---
How Often Should You use African Black Soap?
Two to three times a week should be good.  Another thing that I like about using African black soap is that after using it, it will continue to keep working for hours after.
---
Side Effect of using African Black Soap
When you first start using African black soap you may feel a little tingling on your face.  This is a sign that the soap is working.
You may find that you have a break out when you first start using African black soap, but this is the soap working.  This is your skin going through a detox process and this will clear up in a day or so.
If you skin feel a little dry after using, just apply a little light moisturiser.  I tend to apply a little natural oil like olive oil or grapeseed oil.
You can take a look at range of Africa Black Soap here
---
African black soap is truly amazing at help you to obtain healthier, clearer skin without the use of harsh chemical based products.
You can actually start seeing results within a few weeks with daily use.  And finally you will have a natural product that actually works.
I hope that you have found this article helpful and would love to know what you think.  You can leave me a comment below.
I would also really appreciate it if you would like and share this article.
Thank you
Jennifer
---
You may also be interested in
What are the Health Benefits of Oregano?​
Healing Your Thyroid Naturally by drinking water​
Health Benefits of Fenugreek Seeds​
How to Heal a Body Naturally with Distilled Water​
The Best Anti-Ageing Tips Ever​
How to increase Your Brain Power Naturally​
Mini Fridge Review: Buying Guide 2019​
Nutri Ninja Range: Buying Guide 2019​
What is the Ninja Coffee Bar?: Buying Guide 2019
Nurti Ninja Range: Buying Guide 2019
Best Buy Mini Fridge: Kuhla Table Top: Buying Guide 2019
Benefits of wearing a Weighted vest: Buying guide 2019
Please follow and like us: