This article will reveal one of the best kept secrets about anti-ageing.  You will learn the best anti-ageing tips ever.
Well when I say tips, what I really mean is TIP.  Yes one TIP.  This is all you will need to get results and get started.
I am thinking that you are reading this because you have tried a few difference lotions and potions, creams and toners.  I am not saying they do not work and i will never tell you to stop using you favourate product or products.
But……
This tip you can do in addition to what you are doing.  I will also tell you that this treatment can stand alone.
Drum Roll please…………
The tip is drinking water, yes that's it.. But not just any water, this water in infused with copper.
Drinking water from a copper bottle will do wonders for your skin and it also has  a lot of other benefits which if you are interested I have written a full length article about all the benefits.  you can click here to read.
The link above will open in a new page so you will not lose this one.
Can Drinking water out of a Copper Bottle Really Slow Down Ageing?
Firstly let me say this, you may have tried a lot of different products and by now you are fed up with all these claims of anti-ageing this and anti-ageing that.  Bla blab la.
Okay we have got that out of the way.
I do my research and only if I believe in the product will I put it on my website.  I need to be true to myself first before I can be to anyone else.
Okay again, sorry for delay.
Back to anti-ageing.  If you are worried about you getting fine lines and or wrinkles then copper is you natural remedy.  Why?
Copper is a very strong anti-oxidant and as cell forming properties as mentions in the section about acne and blemishes.
Copper fights off free radicals which is one of the main reasons for the fine lines.  It is done by the formation of new healthy skin cells that will replace old dying ones.  Copper has the ability to rejuvenate your skin because of its properties and this makes it a sure way to beat those fine lines.
Right so now you know here is the link to get your pure copper bottle now, to get you started.
Below are some commonly asked questions, you maybe interested in.
In case you are wondering if I have a Pure Copper Bottle of my own.  The answer is yes.  I have put some pictures that I took of mine.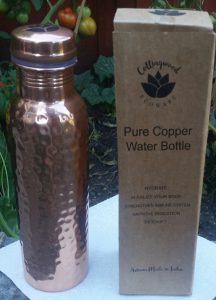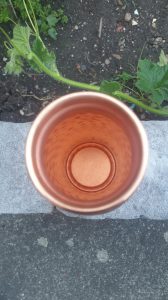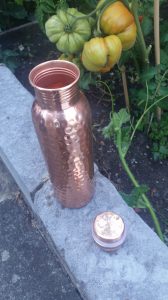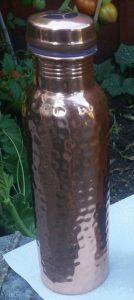 Below you will see come commonly asked questions.
What Does Copper Do To Water?
Storing water in a copper bottle will purify the water.  It will kill and the micro-organisms, fungi, algae, bacteria and mould in the water, that could be harmful to your body.  Copper is an essential trace mineral that is very good for improving human health.
Is It Safe To Drink Out Of A Copper Bottle?
Yes it is safe to drink water from a copper bottle because Copper purifies the water, making the water safe to drink.  It also benefits the health of your body.
Is It Safe To Drink Water From Copper Bottle Every Time?
I would say that considering the health benefits that it is safe to drink out of the copper bottle regularly.
This reminds me, back in the days of my Grandmother when they drank rain water.  The Rain water was stored in a copper tank and this was all they drank from day in and day out.  My Grandmother is one of the healthiest people I know and one of the happiest and she is in her 90's.  To be honest she is healthier that most of her 12 children.
In saying this I would have to say that if you are pregnant and or a nursing mother please see medical advice before using.


How Long Can We Store Water in the Copper Bottle?
Water can be stored in the copper bottle for a very long time, this is due to the properties of copper. It will kill and the micro-organisms, fungi, algae, bacteria and mould in the water, that could be harmful to your body.  Copper is an essential trace mineral that is very good for improving human health.
How Do You Clean A Copper Bottle Naturally?
The way that I have been told to clean my copper bottle is to squeeze half a lemon into the bottle and then add one tablespoon of salt with half a cup of water.  Then I could close the lid and shake the bottle so that the mixture is completely mixed up and then after a good few seconds I would pure the mixture out of the bottle and rinse with water.  I tend to rinse with bottled water and not tap water.
Another way that you could clean your copper bottle is to mix vinegar and salt.  One tablespoon of salt and a cup of white vinegar add to the copper bottle and shake for a good few seconds and pour out and rinse with bottled water.
If you like the information here, please can you like, comment and share, I will really appreciate it.
What do you think about drinking water from a copper bottle?
For more benefits of drinking water from a pure copper bottle please click here.
Thank you for your Visit
Jennifer
You may also be interested in.
8 Tips on Getting Healthy Naturally
What are the Healthy Benefits of Oregano?
Hair Steamers Review with the Benefits of Hair Steaming
Health Benefits of Fenugreek Seeds
How to use Fenugreek for Healthy Hair Growth
How to Use Coconut Oil In Hair
Benefits of Drinking Distilled Water
How to Heal Your Digestive System Naturally
The Best Anti-Ageing Tips Ever
How to Heal Your Body Naturally with Distilled Water
How to Increase Your Brain Power Naturally
Healing Your Thyroid Naturally
Why is Drinking Out of a Copper Bottle Good?
Alkaline Herbal Medicine: Reverse Disease – Book Review
12 Different Benefits of Lavender
How to Improve Your Health and Well-being
Please follow and like us: