Today I am writing about the benefits of Aloe Vera and how you can use it at home.
I must first say that I am not a doctor or Aloe Vera Specialist, but I know what I know about Aloe Vera and my experience comes from many years of using it on myself and my family. I am constantly learning that natural products are the best in my opinion. When I use the term natural I mean a single ingredient like Aloe Vera. This does not mean that you can only use it on its own. I mean using single ingredients together for example using Aloe Vera, Coconut Water and Honey. They are all single ingredients.
I have answered some commonly asked questions below.
What Is Aloe Vera?
Aloe Vera is a green plant that holds water within its leaves, which is in the form of gel. Depending on where it is grown it can be a short plant or can grow to over one foot in height. The leaves can either be thin or just over two inches in width at the base.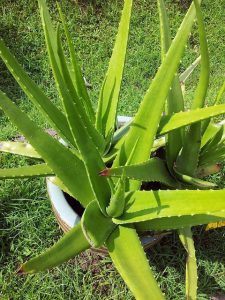 How Does Aloe Vera Taste?
Aloe Vera has a bitter taste which can take some getting use to.  This is why I take it in a Shot glass. So that it is quick and over with in seconds.  You can also add it to smoothies.
Aloe Vera For The Stomach
Can Aloe Vera be used for a detox?
Aloe Vera can be used for or with a detox plan. You can mix with smoothie or in just water. The Acids in Aloe Vera will help to alkalize the digestive system.
Can I Use Aloe Vera to Flush My System?
Aloe Vera is great to flush the system. It can be taken in just water or mixed with your smoothie. It will support your bowl movement and get the toxins out of your system. Aloe Vera is very good for Gut health and will improve the appearance and condition of your skin.
I use it by blending the gel with coconut water and then take it in a shot glass in the mornings before breakfast.
Can You Drink Aloe Vera On A Empty Stomach?
Yes you can take Aloe Vera on an empty stomach because the acids in Aloe Vera alkalizes in the digestive system.
You can take it neat in a shot glass every morning around half and hour before you eat.
Aloe Vera for Weight Loss
Is Aloe Vera Good For Weight Loss?
Aloe Vera is great for weight loss, because of it healing abilities. It clears up inflammation within the body. You Can Take it 15 / 20 minutes before each meal and you can do this for about two weeks.
I must mention here that although Aloe Vera can help with weight loss. It should be assisted with a balanced diet.
Eating right will help the Aloe Vera to do its work in healing the body by removing toxins which in many cases is why a person maybe over weight in the first place.
Drinking lots of water will also help in getting the toxins to move out of the system.
Aloe Vera For The Face
Is Aloe Vera Good For Acne?
Aloe Vera as anti-bacterial properties, so makes it perfect for getting rid of Acne and the redness that you have because of it. Aloe Vera will prevent the bacteria from infecting the Acne wound and increase the healing process.
I would also recommend taking Aloe Vera internally to help with clearing up inflammation from within the body and that way you can get rid of acne once and for all.
Patience is the key. You will see quick results when applying it topically but to treat the Acne once and for all you have to treat the whole body which will take a little longer.
How Long Do I Have To Keep Aloe Vera On My Face?
You can keep Aloe Vera gel on your face for about 15 / 20 minutes or until it dries and wash off with cool to warm water and pat dry with a clean face cloth or towel.
Can Aloe Vera Reduce Wrinkles?
This is something the beauty industry would rather you not know.
You can use Aloe Vera to reduce wrinkles and improve elasticity in the skin.
A little goes a long way. For example, wrinkles around the eye, a drop of gel on you finger tip and gently pat around the eye area. You can do this before bed use as a night gel. Do this regularly and you will notice a big difference.
Can Aloe Vera Tighten Skin?
Aloe Vera is great for tightening the skin and will make it look smooth and toned. It does this by closing pores and improving the skins texture. How I use it. I use the Gel neat and spread a thin layer over my entire face neck and sometimes my upper arms and I leave it for about 15 / 20 minutes and then rinse off with warm water and pat dry with clean face cloth or towel. My skin feels lovely and soft. Use a good moisturiser after.
Can Aloe Vera Get Rid Of Dark Spots?
There has been great results with dark spot and pigmentation when using Aloe Vera. Myself personal when I have used it on my face I have noticed in as short as a week that any dark spots on my face have faded. When I am consistent with the use of Aloe Vera my face is completely clear of spots and I get a lot of compliments about my skin.
Can Aloe Vera Condition the Hair?
Aloe Vera is a great conditioner for the hair. It will restore dead lifeless hair into fuller silkier hair. These are some ways that I use it in my hair.
You can mix the gel in water or coconut water and add to a spray bottle and mist the hair.  For all hair types.
Mix Aloe Vera Gel with a conditioner of your choice and use as a treatment. This can be left in hair for up to an hour and then rinse and style as usual. This is good to all hair types
Mix Aloe Vera with a conditioner of your choice and use as a leave in. I find that it is good for styles twist outs and braid outs. This is good for curly hair.
When removing the gel do not throw away the outer leaves. Blend it in coconut water and or water and strain. Then use as a spray to refresh and or mix with conditioner of your choice. You can then use as a treatment after shampooing or a leave in.
I have also noticed that I tend to get compliments about my skin when I am on a strict Aloe Vera routine.
I must say that I have only answered a few commonly asked questions here and hope that you now have a better understanding of Aloe Vera and how it works with the body inside and out.
It is always better to go the organic route but if this is hard to find you can purchase the bottle variety.
I must also stress that you should consult your doctor and or medical adviser before use.
If you have used Aloe Vera, please let me know what your experiences are?
If you like what you have read please let me know by leaving a comment and or sharing.  Thank You.
[amazon_link asins='B0017TPE7C,B0796TBL1F' template='ProductGrid' store='jadatherapy-21′ marketplace='UK' link_id='e3eab35f-9115-11e8-bc05-13605f1db284′]
[amazon_link asins='B00PY491NY,B06Y46FKMG,B00VUU10FI,B01JBMCM3K' template='ProductGrid' store='jadatherapy-21′ marketplace='UK' link_id="]
Thank you for your visit
Jennifer
You may also be interested in.
8 Tips on Getting Healthy Naturally
What are the Healthy Benefits of Oregano?
Hair Steamers Review with the Benefits of Hair Steaming
Health Benefits of Fenugreek Seeds
How to use Fenugreek for Healthy Hair Growth
How to Use Coconut Oil In Hair
Benefits of Drinking Distilled Water
How to Heal Your Digestive System Naturally
The Best Anti-Ageing Tips Ever
How to Heal Your Body Naturally with Distilled Water
How to Increase Your Brain Power Naturally
Healing Your Thyroid Naturally
Why is Drinking Out of a Copper Bottle Good?
Alkaline Herbal Medicine: Reverse Disease – Book Review
12 Different Benefits of Lavender
How to Improve Your Health and Well-being
Please follow and like us: