Castle Farm also known as The Hop Shop and Lavender Farm is located Kent UK.  This I found confusing when I visited there.
The Hop Shop is on a family farm. The farm is actually called Castle Farm, which is near the village of Shoreham, Kent. The farm is a family owned multi-functioning farm.
Castle Farm also known as the Lavender Farm is the largest lavender farm in the UK. They have over 95 acres of lavender, and it smells really lovely there, I tell you before you get to the farm you can smell the beautiful smell of lavender.
The extraction of the lavender oil was refreshing to learn that this process is carried out on the farm with a steam distiller.
The Farm owns beef, apples, apple juice and hops to which the shop is named after. The Hop Shop as many items that are from the farm itself. Here is a link to Castle Farm / Lavender Farm / the Hop Shop.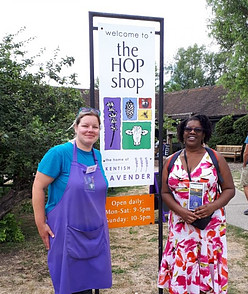 Opening Times
The shop is open year round Mon – Sat: 9am – 5pm, Sundays & Bank Holidays: 10am – 5pm, and is popular with anyone seeking a relaxed shopping experience that's the opposite of the High Street.
Castle Farm is otherwise known as The Lavender farm, although this is not the only crops that they produce on the farm.
I visited the Lavender Farm Tour which I have a review. You can click here to read The Lavender Farm Tour Review.
Also, to find out about the 12 Different Benefits of Lavender Here.


The tours are not just limited to the lavender tours. They have tours all year round, in time with there crops harvest times. In the summer months is the lavender tours, autumn there apples, pumpkins. Christmas they organise there Christmas foods and in spring they focus on Mother's Day and Easter. You can also get hop plants and herbs for your garden.
What I really like about this farm is that they have a strong conservation policy to protect wildlife and they have a very good reputation for its high ethical and environmental standards.
I was really pleased to learn that they are featured regularly on the television, radio and lifestyle, food magazines. The farm have also been used for locations for films and adverts.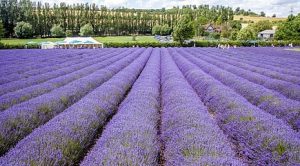 Lavender at Castle Farm
The lavender produced here is widely used world-wide to fragrance houses and used in everyday products from household products to exclusive perfumes. Along with being sold in there hop shop. They have two types, Lavender that is relaxing and Lavendin with is stimulating, which is used in there soaps, creams, candles, massage oils and food essences.
The Lavender is picked by hand and sold in bunches, air dried for uses such as decoration for the home and for weddings and other events.

Cooking with Lavender
They have developed different foods such as lavender ice cream, fudge, chocolate, jams, cakes, biscuits, lavender salt and chutneys. The full range can be found on there website.
The Lavender Farm Season
Early May the lavender plants are ready for sale but the season actually starts in mid-June until early August.
If you have any questions, please feel free to leave me a comment.  Also I would really appreciate a like and share please.
Many thanks.
Jennifer
You may also be interested in.
8 Tips on Getting Healthy Naturally
What are the Healthy Benefits of Oregano?
Hair Steamers Review with the Benefits of Hair Steaming
Health Benefits of Fenugreek Seeds
How to use Fenugreek for Healthy Hair Growth
How to Use Coconut Oil In Hair
Benefits of Drinking Distilled Water
How to Heal Your Digestive System Naturally
The Best Anti-Ageing Tips Ever
How to Heal Your Body Naturally with Distilled Water
How to Increase Your Brain Power Naturally
Healing Your Thyroid Naturally
Why is Drinking Out of a Copper Bottle Good?
Alkaline Herbal Medicine: Reverse Disease – Book Review
12 Different Benefits of Lavender
How to Improve Your Health and Well-being
Please follow and like us: